Well, I Do Miss Vancouver…
Shortly after my last blog I decided to potentially (temporarily?) relocate to "The Island." Vancouver Island.
There are plenty of islands on the West Coast of Canada, but those of us who've lived here all or most of our lives call Vancouver Island "the island."
Between being ornery about Covid restrictions in the city and missing family, I decided to take a city break.
Even though I used to live on the Island, I've only told a few friends I'm here.
I'm too tired to socialize, assuming they'd want to. (If you're an Island friend, I'm too tired to socialize.)
Much like when I was in Vancouver, I hide out in my temporary abode, occasionally peering at those outside through a slit in the curtains.
An antisocial recluse.
Maybe I used up all my extroversion when I was in real estate sales.
Meh, I'm okay with that.
My Temporary Abode on Vancouver Island
I'm renting an apartment in a dated, kinda run down, potentially mould-riddled 70s building on a beach.
This building resonates with me. I'm a 70s child, kinda run down and mould-riddled, too!
The beach part is nice—or rather the sound of the ocean is nice since I don't go out there. #sand #people #eww
And the old part reminds me of my childhood. The good parts of my childhood before the other stuff happened. (See memoir.)
And it reminds me of my little apartment in Seattle. (#memoir)
My brother lives over there across the parking lot, so there's comfort in that, too.
The property used to be a beach resort, though "resort" is stretching it.
Now, there are only long term tenants living in the small apartment building, or in smaller cabins or in even tinier RVs…
Just like my childhood in the logging camp! (Look, you're simply going to have to get my memoir for all the details.)
The Compound
"The Compound" (as my brother calls it) is a half hour drive from the nearest small city.
I gave up my car when I moved to Vancouver so I borrow my brother's when I stealth into town. (People know me here from my real estate days.)
Mostly, I hide out. Chill out. Hope to rest and maybe finally recover from chronic ailments.
My sister lives about a 10 minute drive away, though I only see her every couple of weeks.
I hardly see either of my siblings, me being tired and them being busy, but I see them more often than when I was in Vancouver so that's good.
And it's a comfort to look out my window and see my brother's big work truck over there.
My Little Mom (MLM) would like that we're close, in proximity as well as our bond, even if we don't see each other all that much.
She's in the closet, MLM.
I keep meaning to drop her off at the cemetery (a couple hours from where I'm staying)—the cardboard box with her ashes has been on more than one road trip with that deposit in mind, but alas—due to poor planning (trying to catch the ferry to Vancouver)—it hasn't worked out.
Maybe she wants to make sure I'm alright if the apocalypse does happen.
Politician Apocalypse
For awhile, when I was in the city, I was worried about food shortages due to supply chain issues and the rest of the craziness happening in the world. And Canada.
Somehow, Vancouver Island feels removed from politics and world events.
If you haven't travelled down as many conspiracy theory (truth?) rabbit holes as I have, you gotta at least acknowledge we're in unprecedented times.
Even the mainstream media has touched on food shortages and supply chain issues, never mind inflation.
Both my nieces live on acreages with vegetable gardens within a 10 minute drive of where I am. I'll mooch off them if it comes to that.
Plus, my niece's husband is a hunter. Hopefully, there are wild boar around here.
I'd hate to give up bacon in an apocalypse… I've got high standards, after all!
And high cholesterol.
Which brings us to…
Health Stuff
Good news! I'm no longer on Cortef (steroid). My cortisol is now mostly within a healthy range.
Less great news, now my estrogen is off. It's low.
Add estrogen cream to my hormone prescriptions. (Thyroid, progesterone.)
My Testosterone (TST) is still well below normal range for women, which is at least part of why I'm chronically exhausted.
As mentioned, my cholesterol is a smidge high—but has come down, despite #bacon!
Nonetheless, my doc won't give me TST as long as my cholesterol is out of range.
That's ok!
Because…
Penis-Clit!
A friend, Handy Man, showed me images of extreme bodybuilder women's lady bits who are obvi on anabolic steroids!
O
M
G
Okay, so those "women" are assuredly way over the healthy range of TST for females, but I had no idea what that would do to their bodies.
Apparently, I wasn't joking when I said penis-clit.
I know you're going to Google it! (Just remember, they're watching you!)
I ain't gonna lie, I am a little curious what having my very own penis-clit would be like.
I mean, does it feel like having a real penis?? How would anyone ever really know if it feels the same as it does for a man?
If you're a man, haven't you ever been curious what it feels like to be a woman with a vah-jay-jay?
More urgent in this age of censorship, am I even allowed to say "man" or "woman" nowadays??
Anyway… no, no anabolic steroids for me. No penis-clit.
What else?
SIBO (Small Intestinal Bacterial Overgrowth)
I was put on a round of two different antibiotics that may have helped my gut issues.
I haven't been retested and I won't get into the details but suffice it to say the pipes are working better.
Yay!
However, I was tested for mould and yep, I've got antibodies to mould.
"Did you ever live in a place with water damage?" The doctor asks me.
"Probably. I've lived in over 30 places, many old [buildings]. And an RV, actually." I chuckle.
So, now I have a prescription for something to fix mould exposure.
The estrogen cream I was prescribed is already making me feel bloated and fat.
I will not be happy if this affects my bacon consumption!
And noooo, bacon is not the cholesterol culprit.
Stress, processed carbs and hydrogenated fats (think: potato chips and margarine) affect cholesterol more than saturated animal fats.
I'm serious, look it up.
Let there be lard!
Though my daily grilled cheese sammich may have to go. Dammit.
Adulting is hard. (But so are my arteries, apparently.)
Hashimoto's Disease
Still got it.
My ND in Vancouver says she's never seen anyone recover from it.
Wrong answer.
I ditched her.
I'd rather have hope than accept such a fate.
Heavy Metals
Still got 'em, plenty of 'em.
Doc says to take a break from the chelation treatments because it's taxing on the body.
"Deal with the mould thing first." He says.
Sure, ok. Shrug.
I've accepted I may never have nice things or adventurous experiences again because most of my loot goes to medical expenses.
Nope, the Canadian medical system doesn't cover the cost of any of this stuff. It's extra.
And now our PM is taking our guns away so I can't even rob a pharmacy.
Unless of course I obtain a firearm illegally like criminals do.
Future Plans
Not sure how long I'll stay here on Vancouver Island.
You may have guessed I move around a lot.
Always looking for home but never allowing myself to get rooted anywhere.
I briefly considered Mexico, but … spiders.
I'm not even kidding.
Yesterday, there was a tiny Canadian spider in my shower and I nearly broke a hip hopping around to avoid it.
It apologized, of course.
But have you seen the spiders in Mexico??
They're so big they'll take off with your tamales if you let them. But probably only if they're cockroach tamales.
Still, no thanks.
So, next winter I'll get a sun lamp or red light therapy lamp or, heck, just use my little sauna more often.
I will ward off the winter blues aka S.A.D. aka Seasonal Affective Disorder.
S. A. D. is real and it's biological! (And diabolical, if you ask me.)
Work
Still plugging away trying to help others find love and feel good.
Ironic, I know.
Hired a guy to help jump start the biz income slump. Gave him three months. Didn't see an improvement. Let that go.
Trying some other ideas.
The best thing I could do is produce more videos, but that requires more me.
As is, I take (legal) stimulants (not good for me) on the days I film to have enough energy to look alive and bright.
No one would watch my videos if I filmed them from nap position—well, maybe they would but I'm just not into that kind of reality TV!
So, in the meantime, I'll just keep trying my best.
Well, that is all.
Thanks for reading, I appreciate you.
Nap time.
What Have We Relearned?
I'm a sicko.
That's ok.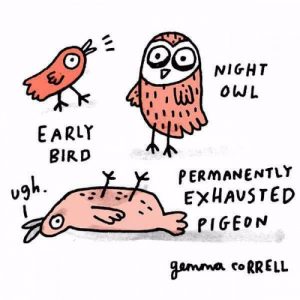 Reminder, email replies to this blog are filtered straight to the recycle bin. Please post any thoughts publicly. xo