A redhead walked into a bar with a monkey…
This story is not about a redhead who walked into a drinking establishment with a primate, but my original opening was boring, unlike my "lady opening" which is far from boring, that is if you could find it. #SasquatchSnatch
Warning: sarcasm, swears, oversharing and under-shaving ahead…
Here's what I was going to start with:
My naturopathic doctor approved Thrive (a supplement) for me to go back on. I'm really excited about this because Thrive gives me energy…
Exactly, who fucking cares, right?
As far as I'm concerned I'd rather read fake news about a Bonobo in a bar or real news about an overgrown garden *wink wink nudge nudge* than about someone's ongoing health issues.
Interjection: In regard to my previous post about my current ongoing health issue, SIBO, I apologize… except for the part where I mention shitting myself silly and Mr. Banana Penis; a story in which I should have disclosed happened when I was 19 years old not recently like you might have assumed. I'm about a billion percent sure that I had Sasquatch snatch at that time, too, because I was a rebellious teenager backpacking through Mexico and a razor took up too much space. My excuse now is simply laziness, lack of energy and low — *cough* no — libido. #menopause #hypothyroid #notintocasualsex
Anyway, what's my point?
Look kids, if you haven't been reading my blog for long, you might not know that I don't have a point. I need to get the random and continuous stream of mostly useless thoughts out of my head and onto the page. To purge, if you will.
Normally, I basically puke my semi-inspired idea onto the page without editing, filtering or proof-reading, and then impulsively post the blog regretting it soon afterward but not having the energy to change it.
Irresponsible writing? Um, hello, my blog. If you don't like it, get out of my head (which you are reading the translation of now).
I often have the urge to write but don't have a specified idea and usually talk myself out of sitting down at my desktop because there are more important things to do, like sleep.
But this time I thought, "Fuck it, ima write right now and share whatever spills forth on the page, motherfucka."
So, Hi.
Here I sit with Henna brow tint on my — you guessed it — eyebrows, hoping I don't end up looking like a freaky Frida for an event I'm going to tomorrow.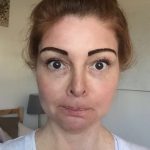 When I say, "Going to" what I mean is that I want to go but it will depend on my energy level, which is why you may not be excited about Thrive but I am.
Stress depletes energy.
Which brings me to …
Did I tell you I had a day job? Did. Past tense. Tense. TENSE. BOSS. JOB. ANXIETY. TWITCH.
Stop talking about it, already!
Thank the Lord G Almighty that is in my past.
I'd tell you about it but PTSD, motherfuckers, P.T.S.D. ("Motherfuckers" is a term of endearment.)
I wish I could tell you everything going on in my stress-y world, but everything includes other people who I dearly love and whose privacy I need to respect.
But what I can tell you is that someone I love is going through some serious shit, the most serious of shit, life and death shit, and that shit sucks.
Be right back, I have to go wash this tint off my eyebrows. Fingers crossed!
I'm back!
The tint didn't really work. Maybe a little. I had some blondish eyebrow hairs that are now a light copper-y colour. I don't dye my hair, so I just want my damn eyebrows to match my head hair!
The men under 30 reading this (who have higher levels of testosterone than the men over 30) are wondering if the carpet matches the drapes. After all, how would anyone know these days?? Porn stars are all bald. (I assume. I don't watch porn.)
In answer to your pervy question: None of your bees wax.
And … moving on.
I was thinking about my memoir the other day and wondering if I should write another one.
After all, I have all the time in the world (jobless) and the first book was so profitable (sarcasm).
*Nodding* so, yeah, I might.
Should I write a sequel to my first memoir or write about my travels or my naughty sexual escapades? Naughty traveling escapades?? I'd love to have your input. 😉
Maybe not a sequel; if you've been following my blog you pretty much know most of what's transpired since I wrote Me: A Rewrite.
Recently, I was offered a commissioned contract to write a dating advice book, but declined because I'd not only have no rights to my own words, but I may have to remove my own damn words from my Wingmam site. No, thanks.
Jeez, aside from my gratuitous oversharing about my soon-to-be-not-bearded clam, this blog isn't that exciting.
At least I've shamed myself into doing something about said hairy thang and by the time you read this I will be properly groomed, or at least soon to be. If you see me, feel free to congratulate me. Hell, gimme a high five, why not.
And on that note, this transmission is complete.
What have we re-learned?
Anna is still crazy.
When life gets stressful, crazy is a great survival strategy.
Therefore, crazy is the sanest condition to aspire to.
Anna is smart.
Be like Anna.
AJ's Homework
Wax.
Wane.
xo AJ
Did you like this blog? Comment! Share!! Subscribe! Spot me a coffee! Get my memoir!