Mr./Ms.? How Do You Address A Transgender Person Who Hasn't Transitioned Yet?
Caitlyn Jenner Vanity Fair former Bruce Jenner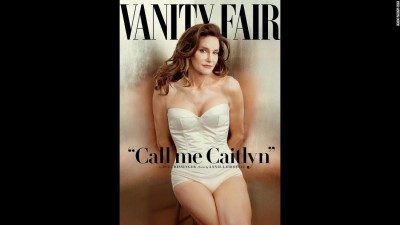 I didn't watch the Diane Sawyer interview because I don't have TV. Also, I only have limited Wi-Fi at home. One of these days, I'll go to the library and watch it, but for now I already know all I need.
Jenner has a limited amount of time to run around totally topless before s/he's got to get on board with the rest of us females and fight for—or flee from—airing our areolas in public (see #freethenipple blog).
Though, I feel that if s/he were to trapeze around bare-chested now, it would already be breaking the law. Not only has s/he acknowledged that s/he is transgender but also s/he seems more femme than fellow; therefore, I think running around sans shirt would be demeaning—meaning desperately out of character, for her.
I love Jenner because s/he's embracing authenticity and, under all circumstances, that took a lot of balls. (Soon to be removed.)
Okay, so sometimes I make up little] conversations and scenarios in my head while riding my clam-crusher (bicycle), and this morning this was one of them:
I'm pumping my peddles on the way to the Santa Monica stairs, and I suddenly run into the former man known as Bruce Jenner. He's sporting a ponytail and Dior sunglasses just like mine.
(Remember this is all imaginary.)
I heave on my brakes and screech to a stop as his car approaches the sidewalk.
Oh my God OK! I say in the gayest-male accent I have. (Why is it that I have an irrepressible urge to take on the classic stereotypic accent of any minority within my vicinity? Seriously, in real life, I totally, like, have to catch myself, girlfriend [giggle]. Don't even pretend you don't know what I'm talking 'bout, Willis.)
Anyway, Jenner is all calm and composed and tells me s/he "likes my shades," and I fly into a rainbow-flag-waving rant aimed at impressing him (her!).
Like, God gave certain people the wrong parts at birth, riiight? I'm totally, like, reading the Bible, and so far it hasn't even explained why He does it, know what I mean? Like, maybe He's a Jokester—does one capitalize jokester when referring to God?
Jenner lowers his (her) shades, eyes sparkling with interest—or possibly fear.
I continue: Or maybe He's testing us all: the trannies of the world—you, not me, no offence—and those who judge you, them. Or maybe He's, like, allowing doctors to forge a new path, a vagina for you (hehe), you know, to, like, show the many brilliant minds that reassigning surgeons possess and their surgical splendour, which is technically God's work because He created those doctors, am I riiight?
Jenner gets in his car and speeds away without the slightest wave or even blowing a discreet but grateful kiss. Humph, even in my imagination, I'm rejected.
At least there's a reason he's just not that into me.
But seriously, whatever God's reason, I have found several places in the Bible that tell us "Judge not lest ye be judged," and "Love thy neighbour as thyself," and "Let the Big Guy do the judging when the time comes," and "Hey, look, there's a log in your eye and you're bitchin' about the splinter in that dude's socket." (I may have modified those last two to my own words, but they are in the Good Book somewhere.)
Warning: Bible verse ahead …
1 Corinthians 13, verses 4–8: Even if you're a hard-core, Jesus-loving, Bible-thumping Christian (like me!), it is not our job to judge—Hello! God's job! It's our job to love. That is all.
I hope Ms. Jenner comes up with a sexy, super-duper-non-gender-neutral new1 name cuz I #LooovesHer!
What have I (re)learned? In spending too much time alone, I may occasionally and unconsciously voice my imaginary conversations aloud … while passing parked cars … with rolled down windows … and occupants therein … who now totally think I'm a longtime Venice local, y'all!
Homework:
Catch up on watching Gigi Gorgeous Youtube videos. #Lovesher…Uh, I mean, for research purposes, of course (sideways glance).
Start wearing earbud-bluetooth-phone-thingy. That way they might think I'm actually talking to somebody other than myself. And then I can do it way more often!! You go, girlfriend!
Your Homework (or rather possible suggestions)::
Love your neighbour—or neighbor if you're in the USA—not literally, as in physically, unless mutually consented by two (or more) adults. (Though that might be a sin, but I haven't got to that part yet2. Then again, if you don't care, well then, carry on.)
Share the love! (As in: this blog post.)
If you haven't already, subscribe to this blog and never miss out on naughtiness delivered directly to your "inbox."
If you'd like to read more about my "creative visualizations" (aka I-don't-work-or-have-kids-so-I-daydream-to-fill-my-time), leave a comment, and I'll tell you how Gerard Butler, a fireman *sideways glance*, rescued me on the beach just the other day! ("Am I dead? Because you look like Heaven…")
Some people think I've fallen off my rocking chair, and though I try to reassure them that I've always been this crazy, and this lunacy just been safely tucked away for a long, long time, they still look at me funny. If you knew me in highschool, please leave a comment to confirm that I have, indeed, been mentally "different" all this time. That ought to make them feel better!
1Update: Caitlyn Jenner! is the new name. Yay! Go trannies!
2Update: Apprently, the Bible says orgies and debauchery are sinful. Humph, who knew! (Too many chefs spoil the soup?)