Officially (Purposefully) Losing My "Mind"
Calgary has been perfect for what I didn't even know I needed.
Every day that I look outside and there's still snow on the ground, it feels like Christmas morning! The locals hate it, but I love it! It's the winter I hoped and prayed for (and possibly manifested)!
I've been able to hibernate, introvert and introspect like a MoFo. 
Even though I didn't know why I felt compelled to move to Calgary, God knew. God knows everything that Smarty Pants!
I thought I was simply running away — flying away — from a veritable smorgasbord of sad memories. 
Turns out, I did that, but I got the bonus dish of digging deep into self-development.
Oh, I'm normally an SD junkie, for sure, but it's been more of a casual stroll by the Seawall until the last six months when it became a strenuous hike through the Himalayas of my heart.
I'm not lost.
But I am trying to lose my old "self." 
Enter: Teal Swan. 
Teal Swan Self-Actualization
Whether or not she's an alien don't matta! (Somewhere I learned that either she, or her followers, thinks she's from somewhere other than earth, but really … aren't we all? Aren't we all.)
Anyway, her teachings seem sound and they resonate with me. 
Naturally, I've watched dozens of her videos, actually going through the processes she ascribes to. Though, clearly, I haven't watched any videos on overcoming OCDness.
Although Teal (says she) has pioneered several of the processes she professes to, several of them can be found in mainstream psychology textbooks.
But those books don't have the Teal Swan style! 
Hawk Spirit Animal Totem Meaning
Teal Swan has a free meditation to find out what your spirit animal totem is. I thought for sure I'd get "badger" because they're ornery and solitary. Nope, I got "hawk."
At first, I was disappointed. Couldn't my spirit totem animal have been the majestic eagle or the more delicate looking and quick-as-a-whip falcon?
Oh well, at least it's not a vulture! 
And hawks do soar above the world. Brave little bird! Wing(mam)! Head in the clouds? Just sayin'.
Also, supposedly hawks represent spirituality and the spirit world. 
Whatever. I'll take it.
Are There Bears in Downtown Lake Louise in May
Yes. Yes, there are bears in downtown Lake Louise in May! 
And given the extended winter the Canadian Rockies has seen this season, my sleeping on a park bench would provide a welcome wake up snack for those bears.
Why am I considering sleeping on a park bench in Lake Louise in May?
Great question!
There's a six day spiritual retreat — The Joy of Being — with Eckhart Tolle and Kim Eng at The Chateau Lake Louise for the week of my birthday!!!
(No, I'm not stalking Eckhart as a potential next partner. That was a joke, people!)
And even though I'm #1004 on the wait list, I figured that if I simply show up then I might get in. Everyone says that showing up is half the battle, right?
Plus, it could be an "expansive spiritual experience" to camp on a bench in front of the prestigious Chateau (with its bargain basement rooms starting at a grand per night on sale). 
I could wave toward the dining room window to the breakfast patrons or — more spiritual — give them the "Namaste" bow, hands in prayer position at my bosom. 
Eckhart spent two years on a park bench in England (or somewhere) when he was finding himself, or rather, losing his ego "self." 
But Google tells me there have been no reported bear sightings in downtown London and it's doubtful Eck would be severely mauled by a squirrel.
I ponder my manifesting abilities. Could I manifest a ticket and lodging for free? 
Yes, I could. 
How to Manifest Magic
I decide that hungry bears fresh out of hibernation is too great a risk and that as much as I believe someone could manifest free admission and accommodation, I don't really believe that someone is me. (You have to believe 1000% or it doesn't work.)
I let the idea go.
The next day I see Facebook ad for An Evening With Eckhart Tolle in downtown Calgary! 
Whaaaat? 
One night only. Within my budget. Twenty minutes away on the Red Line. 
I buy a ticket.
The next day I'm notified by email that, despite being #1004 on a waiting list, some tickets for the Lake Louise retreat have come available. 
Oooooof course they have! Part of manifesting anything is surrendering, letting it go completely. Check.
Nonetheless, I really can't afford the ticket. 
And I really can't afford to park my ass on a park bench.
There are not only black bears and brown bears that'll eat you on the spot, but there are also grizzly bears that will drag your yummy bum away and eat you later. And wolves and cougars.
With my luck, I'd get eaten by a cougar and not live to write the ridiculously funny (and naughty) blog that would offer.
Sometimes, life just ain't fair. But it is an adventure!
Maybe I'll find a way to tap into my hawk spirit and just fly on over for a quick peek.
GoFundFinn (Actual Term Searched: GoFundMe)
When I was 25 years old, I really wanted to exit the planet, like permanently (see memoir).
A good friend, Finn Ronne, intervened and basically saved my sorry sorrowful ass by sending me to a four day workshop, www.choicesseminars.com. 
Later, Finn moved to Boracay Beach in the Philippines, had a kid, and eventually started Finn's Bleeding Hearts' Club, a charity that supports shoeless children in getting an education.
The incentive? Food. 
When you got no food, you don't care that you got no shoes, never mind an education. 
In 2014 — a month before hiking the real Himalayan mountains — I visited Finn and these small humans. 
We delivered rice, eggs and hotdogs. The kids' reactions were more excited than any kid I've seen at Disneyland. Rice, eggs and hotdogs, folks!
(This is part of why I cannot tolerate petty first world complaints.)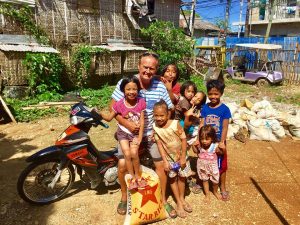 Anyway, bottom line: The President of The Philippines has closed Boracay to tourists. Full closure for 4-6 months while necessary sanitation upgrades are made. 
Finn relies on tourists for his primary business, i.e. to survive.
To keep Finn and the kids fed, I've started a GoFundFinn campaign. If you want more info or feel moved to contribute, click here.
If the situation improves early, any leftover funds will go toward supporting the children in staying fed and getting an education. (All funds go directly to Finn.)
(I donated direct.)
Not feeling generous? Maybe you'll like the photo of me without a lick of makeup. Check it out! 
xo AJ
What have I re-learned?
There are advantages to having a lot of money.
I'm too lazy (content?) to do what it would take to have that much extra money.
If I wasn't so lazy (content?) I'd get better at manifesting.
Now that I have a hawk spirit totem thingy, I'll use the power of my mind to fly back to Calgary when I need a hit of Christmas snow, maybe this summer by the looks of it.
The best part of having a lot of anything — love, compassion, money — is being able to give some of it to help others! Go (Fund) Finn, Go! (Or use etransfer or PayPal and transfer direct to: ronnefinn@hotmail.com) #payitforward
Now, I'll go in the kitchen and manifest some cookies. I can def definitely do that.